We have exported many peanut shellers to Africa, as our experience with Africa customer, most of them don't know how to choose a proper shelling grate for his peanuts, today this article will tell you how to choose.

1. Peanut sizes
In the international market, peanuts are divided into different sizes by accounting quantities per ounce (28.35g). Commonly we name large size peanuts with "Virginia Type", it's shell is thick, kernels are big and in oval shape, kernel skin is pink color. And small size peanuts are usually called "Spanish Type". The kernels are small and in round shape, kernel skin is red color.
Large peanuts: 24/28, 28/32, 34/38, 28/32 (per ounce)
Small peanuts: 25/35, 35/40, 40/50, 35/40, 60/70, 70/80 (per ounce)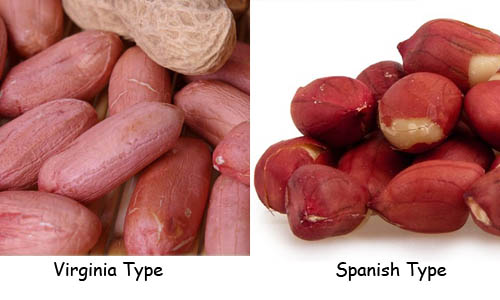 2. How does peanut work
Peanut sheller reaches shelling purpose relying on the friction force between shelling rollers and shelling grates, under the impact pressure, in shell peanuts are split, shells and kernels, un-shelled peanuts fall out of 1st stage shelling room. Hence, to choose a proper shelling grates is key important, especially the first shelling grate size is very important, because 70% peanut will be shelled first time.
Improper shelling grate will cause terrible shelling result, e.g. unshelling rate increasing, or broken shelled peanuts going up.
3. Shelling grates of peanut sheller
Learn shelling grate conception first,
There are 3 stages shelling mechanics in our peanut sheller.
From below photo you can see most of peanuts will finish shelling on 1st stage, then 2nd stage and 3rd stage. Such structure peanut sheller guarantees all peanuts can be processed well.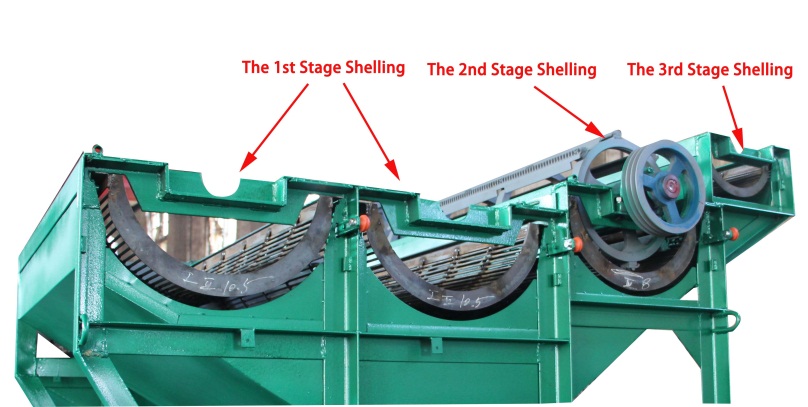 We generally design the shelling grate dimension as following:
| | | | |
| --- | --- | --- | --- |
| Item | 1st Stage | 2nd Stage | 3rd Stage |
| 1# | 11.2mm | 8.8mm | 7.5mm |
| 2# | 10.5mm | 8mm | 7.5mm |
| 3# | 9.4mm | 7.5mm | 7.5mm |
| 4# | 9.1mm | 7mm | 7mm |

The shelling grates are interchangable. Customers can order several shelling grates as spare parts, based on raw peanut variety to change proper shelling grates, for example, the shelled of peanut variety is: large ones with 9.3-9.5mm and small ones with 7.5-8mm. We suggest choose 2# and 3# shelling grates for ideal shelling result.

The correct choice on shelling grates will make peanut shelling result significantly, if you have no idea on how to choose, welcome to contact us for professional suggestion, thanks!