Working Principle of Peanut Butter Making Machine
By means of the relative movement of the different geometric-shaped stator and rotor in high revolving speed, roasted peanut enters the colloid mill due to the gravity, ambient pressure, and centrifugal force and comes under the action of strong shearing, rubbing, impacting, high-frequency vibration and whirling forces during the variable annular grinding gap between rotor and stator. Then the peanut will be effectively dispersed, pulverized, emulsified, homogenized, and uniformed, thereby the peanut butter product with ideal size and quality will be fulfilled.
The Nut Mill Grinder's grinding room has a 3-step grinding area, 1st is the coarse grinding area, 2nd is the fine grinding area, 3rd is the superfine grinding area, through adjusting the distance between the rotor and stator of the peanut butter grinder, it can reach to ideal grinding result. (the recycle-grinding process is available)


Constructional Characteristics of Peanut Grinder Machine
l GMS series nut butter grinders keep up all the merits of traditional colloid mills such as well-designed construction, simple operation, low noise, easy servicing, small in size, etc. Moreover, it has also the advantages of wide adaption, easy variation in speed, mounted differently type motor, nut butter mill can satisfy special material's grinding
l GMS series nut butter grinder mill is a multi-patented machine: It has the characteristics of compact design, practical new type, beautiful appearance, good sealing, stable performance, convenient operation, simple decoration, durability, wide application range, high production efficiency, etc. It is the most ideal grinding process for handling fine nut butter equipment.
l Except for the motor and some parts of the colloid mill, all the parts in contact with the material are made of high-strength stainless steel. In particular, the key moving and static grinding discs are strengthened, so they have good corrosion resistance and wear resistance. , So that the processed materials are pollution-free, sanitary, and pure.
l Processing status: multi-stage online emulsifying and dispersing grinding machine
l Critical parts, i.e. rotor and stator of nut grinder, are made of high-grade stainless steel and processed precisely by advanced technology, hence have good hardness, high yield strength, and deformability, which make the wearing parts more wear resistance and longer life.
l Material contacting parts are made of food-grade stainless steel.
l According to the different raw material type, the material type of rotor and stator can be changed to fit it.
l Matched with a water cooling system, to guarantee the natural taste of products. Cooling water can be recycled after filtering.
l The nominal revolving speed and its variable range may be ordered by the customer according to different uses of this machine.
l The main body seat and the grinding gap adjusting ring are equipped with a limit position and a locking device to ensure the stability of the machining gap during working.
l The customer can choose to use a common motor or an explosion-proof motor to peanut butter grinder for sale.
l The whole machine is assembled or disassembled easily.
l Reasonable structure, stable performance, simple operation, and less maintenance.


Why is your peanut butter grinder more expensive than others?
In our daily work, the most constant question we were asked is why your colloid mill machine is more expensive than others? Or even some people turn to us seeking technical support due to the previous supplier can't solve their grinder machine's fault. Based on those points that everyone cares about most, we show our peanut butter mill and others, in order to prevent you from being misled when choosing peanut butter machines.


The left side is a qualified stainless steel butter mill to be shipped, with beautiful appearance, good sealing, and compact structure.
The right side is a running grinding machine for peanut butter, you can see the motor, the wire is naked, operator's security can't be guaranteed.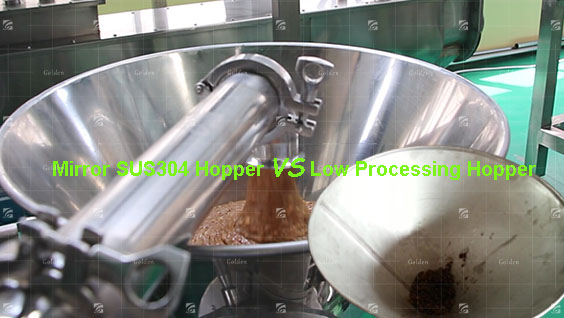 Our Nut Grinder: all parts material we adopted is complying to country standard, peanut grinder's hopper is mirror stainless steel 304, the processing is smooth, no nut/paste/powder residual, Compliance with food hygiene standards.
The other Nut Mill: The hopper is coarse, poor material and low processing technology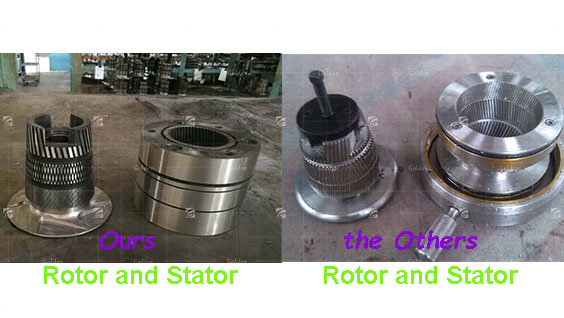 This is our key parts of nut butter grinder, rotor, and stator, from outlook, you can't feel what's difference between others nut grinding machine, actually, it is made by two types stainless steel, go through special processing, hence it obtains both hardness and toughness, such character enhance our nut colloid mill have excellent performance and strong durability.
And this is poor quality rotor and stator, once the nut grinder starts, you will find the nut butter isn't so good, because the peanut grinder's "heart" can't provide super grinding pressure, also, you need to contact with the seller to buy new rotor and stator parts in a short time.
So you should get to know our efforts lie in those places you can't see, but we do it best always. We kindly remind customers not to make the wrong choice because of the slight price difference, otherwise, it will bring numerous & unsolvable troubles to the future peanut butter production.

Peanut Butter Grinder Inspection Before Delivery
1. Each colloid mill machine must be inspected by the inspection department before leaving our factory.
2. Each colloid grinder mill must undergo a 30min no-load test at the rated speed, and the nut grinding machine should meet the following requirements.
2.1. The peanut butter mill runs normally and smoothly, no abnormal sound is allowed, and the operating device is flexible and reliable.
2.2. The connecting parts and the fasteners can't have a loose phenomenon.
2.3. For mass-produced peanut grinder, at least two sets of grinder machines shall be randomly inspected each year, and the test shall be conducted in accordance with the regulations of JB/T9820.3, and the results shall meet the regulations.
2.4. If it is a carbon steel type peanut grinding machine, the quality of the paint coating should be inspected according to the regulations of JB/T5673.
Golden machinery has many years of experience in nuts industrial processing, e.g. peanuts, almonds, cashews, pistachios, hazelnuts, sunflower, pumpkin and sesame seeds, etc. We provide complete solutions for individual process stages and control systems, including high efficient mechanic equipment and modern PLC control system- all from the one single supplier- Golden machinery, food processors have flexible options on the production line on request.

Golden machinery has proper process solutions for all processing steps, from the raw material into the finished peanut/nut butter, all highly efficient and in compliance with international food safety standards. These are end products of this line, organic creamy peanut butter, crunchy peanut butter, and whole blanched peanut(sub-products). We are always here waiting for your visit and inquiry.