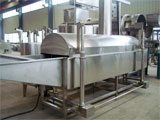 Continuous Peanut Fryer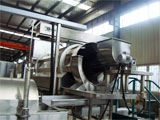 Honey Coating Machine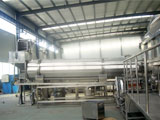 Secondary Flavoring Machine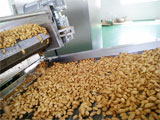 Peanut Cooling Machine
Introduction of Honey Coated Peanut Production Line
Honey Coated Peanut Production Line begins from blanched peanuts, via continuous peanut flavoring machine, continuous fryer, cooling machine, it occurs honey slim surface, the finished product is glazed, crispy and honey flavor.

Honey coating: continuous honey coating machine is made available in different profile as per product demands. Nuts are feed into rotating drum, the powder type flavor is supplied by flexible side wall belt conveyor and weighed to put in the rotating drum, the liquid type flavor is pumped and spewed by spray pumps. Nuts, powder and liquid type flavor will be mixed together evenly, thus reach to ideal flavoring effect. It is the most efficient equipment among snack industrial production.

Peanut frying: continuous peanut fryer receipts flavoring added peanuts, bring them to heated oil, during frying, the peanuts will stay on the belt and be fried evenly within short time. Due to speed of conveyor can control, peanut is fried with same temperature and time. Fried peanuts can keep uniform color and same taste. Continuous peanut fryer has heat prevention layer, in order to keep temperature of oil in same temperature, meanwhile, it also prevent heat loss, increase the heat energy utilization. At the same time, continuous peanut fryer is matched with advanced oil filtering system to keep the oil clean all the time, this system guarantee the fried peanut with glazed and pretty color.

Secondary sugar adding: after continuous fryer, peanut is hot more than 120C, powder type sugar and others ingredients will be add via a same continuous flavoring drum. Meanwhile sticked honey peanuts are separated due to the drum's rotating. Rely on the heat of honey peanut, powder type ingredients are melt, honey peanut appears glazed and perfect shape.

Peanut Cooling: Peanut Cooling Drying Belt is equipped with motor reducer, thus control the running speed, there is installed high pressure air fan at the top of Peanut Cooling Drying Belt, the purpose is to remove the humidity on surface of blanched or fried peanuts.

Metal detector: it is mainly designed to pick out the metal impurities among split blanched peanuts, in order to protect the cutter and keep purity of finished chopped peanuts.

Honey Peanut Packing: honey peanuts are packed into 2-10kg or in bulk. They are ready for going next step process.